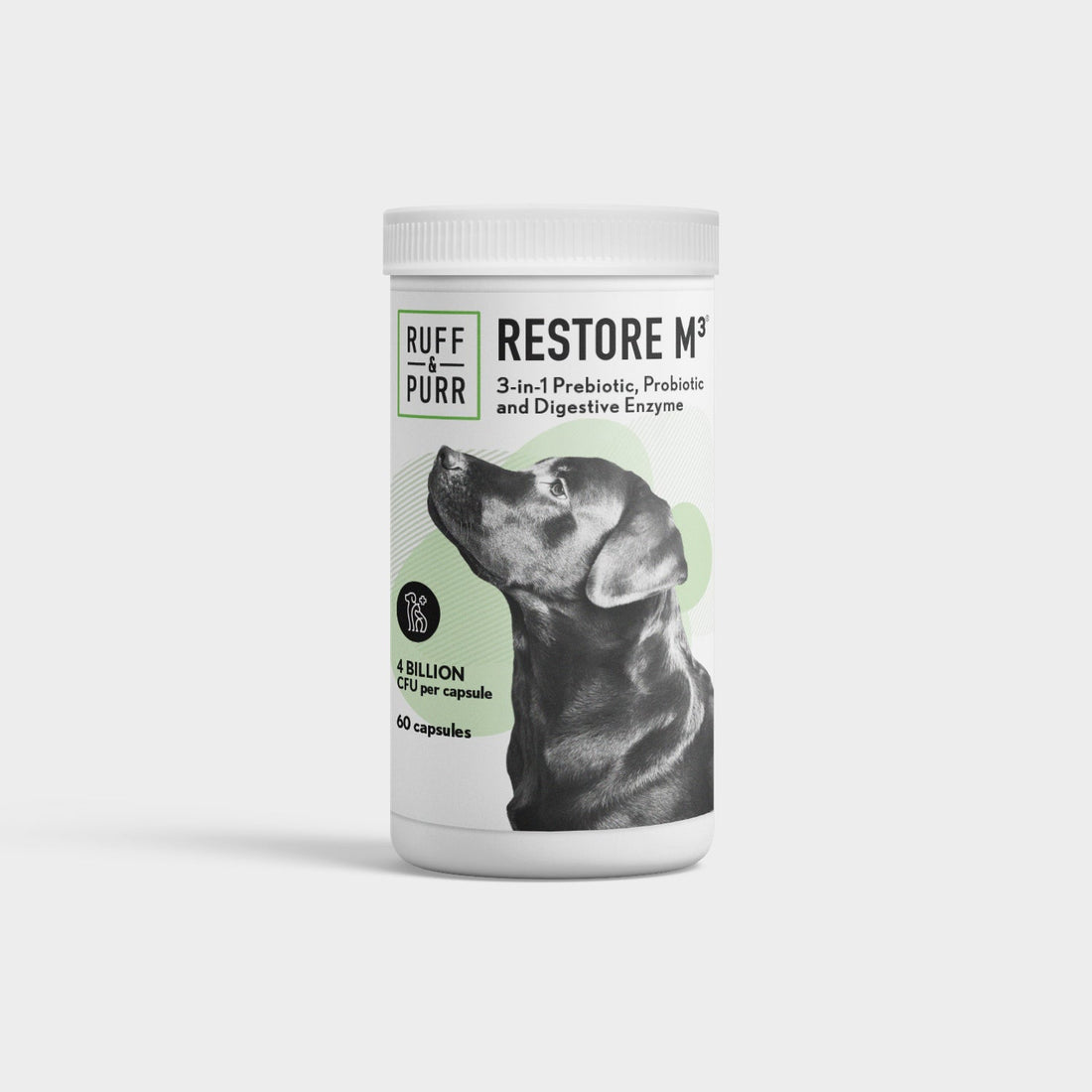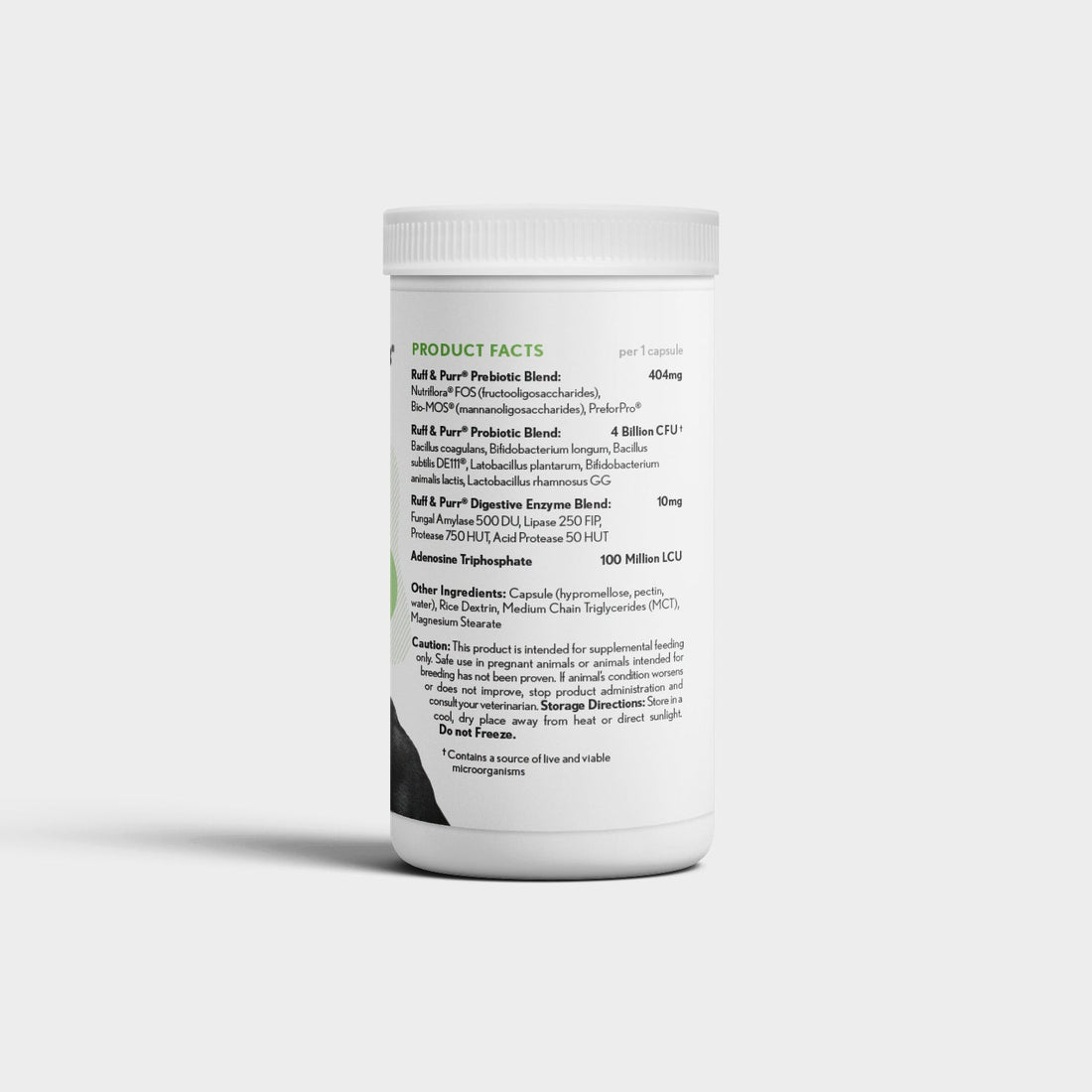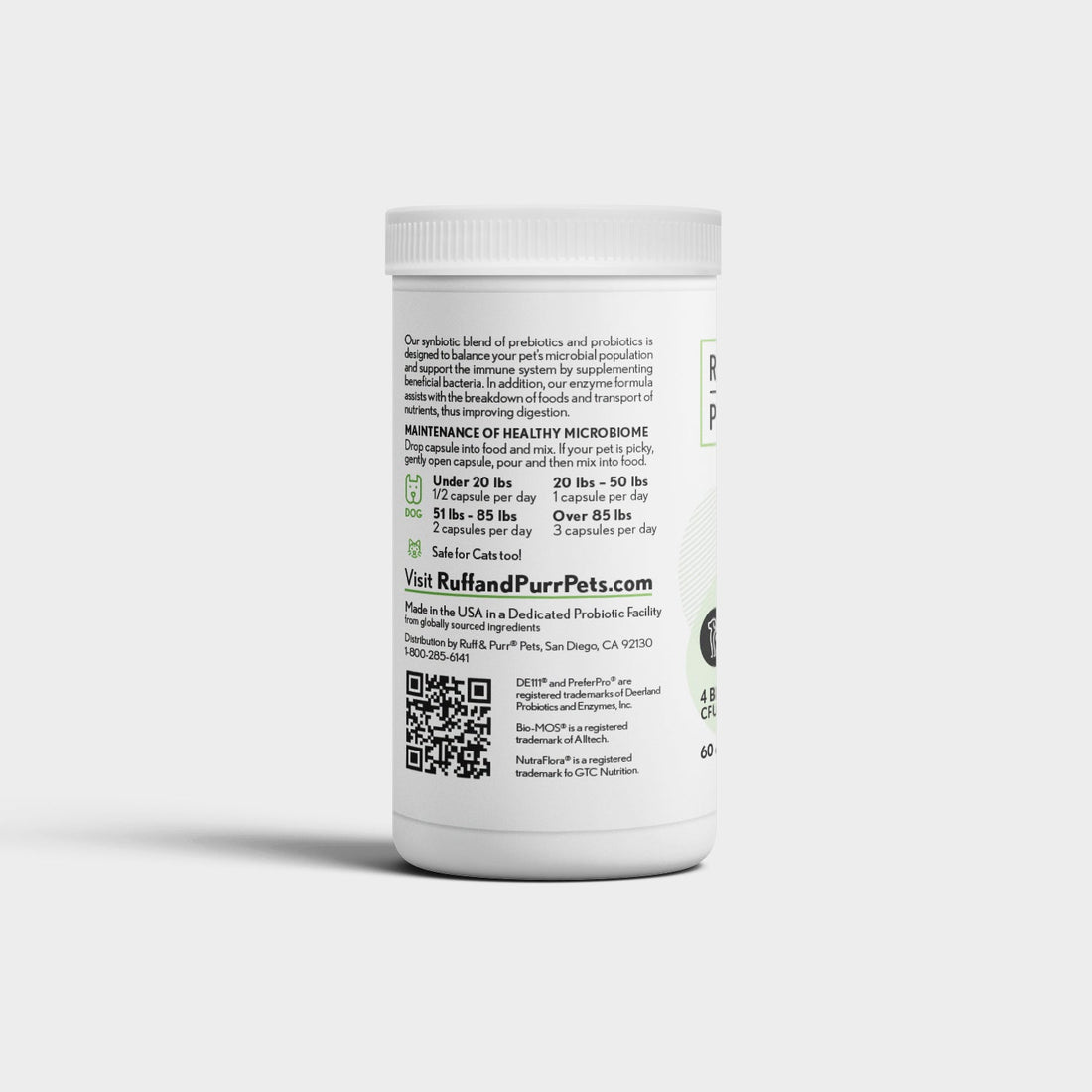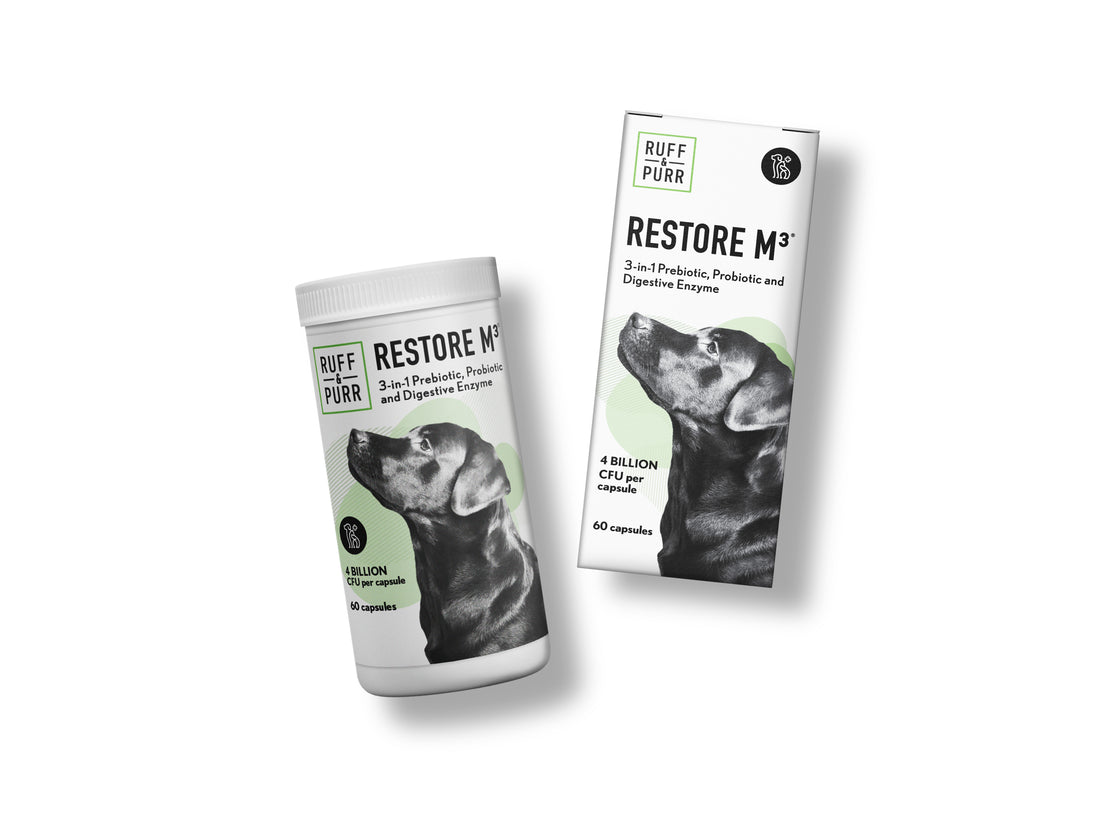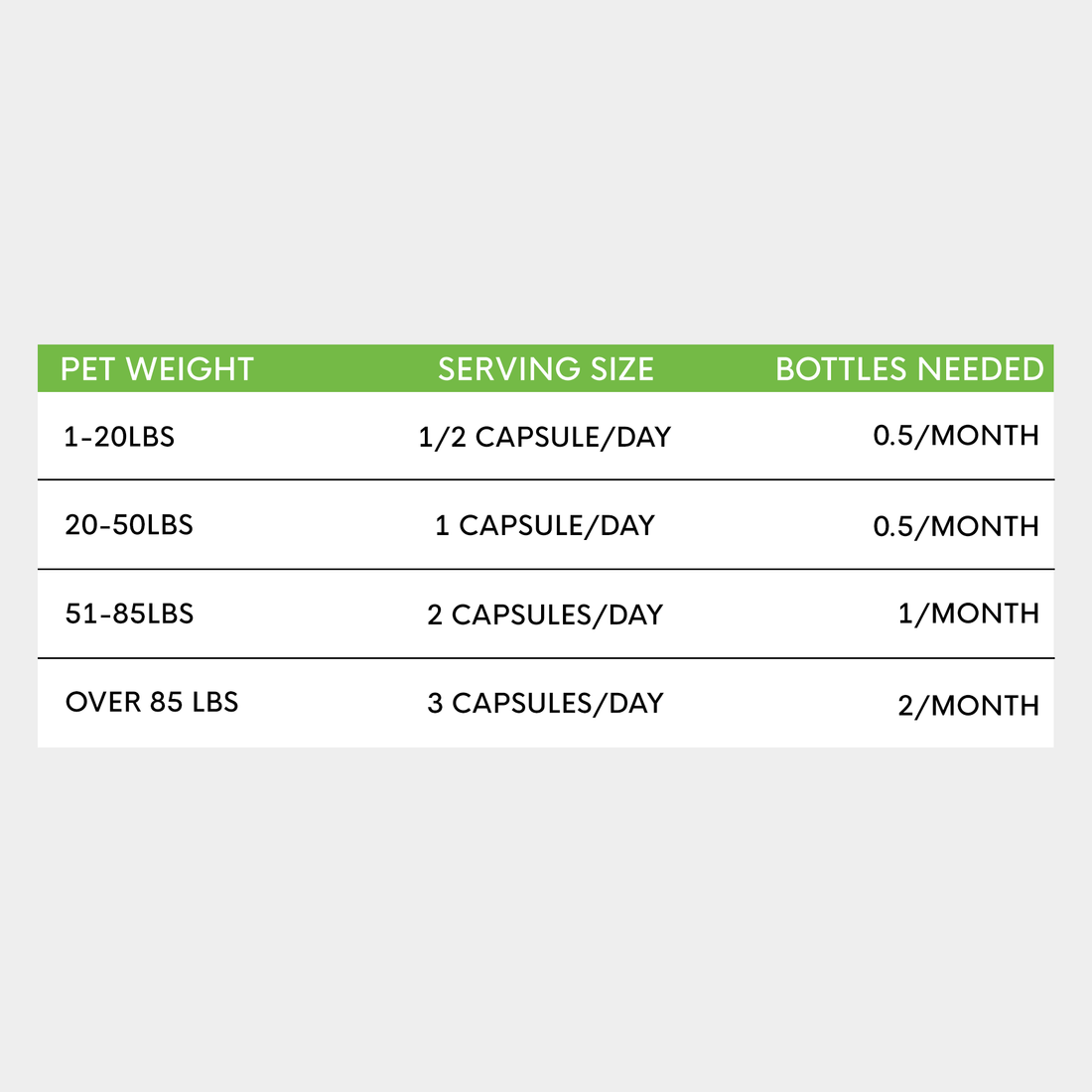 Your pet needs a strong and healthy gut for a long and healthful life. Whether a pup or an adult dog, digestive health is important at any stage of life. This product contains everything you need to tackle your pawed pal's microbiome in a once-daily convenient capsule that can be taken whole or sprinkled onto food.
Free Shipping
Made in the USA from domestically and internationally sourced ingredients
3-in-1 Prebiotic, Probiotic & Digestive Enzyme for Gut Health & Immune Support and Better Digestion
"My vet suggested I give my pup Restore M3® and she's a different dog. I could barely walk her a few hundred yards but now she happily trots about a mile. I am in shock that this product could have such a significant response. Thank you from me and my dog."
– Claire T.
Your pet needs a strong and healthy gut for a long and healthful life. Whether a pup or an adult dog, digestive health is important at any stage of life. This product contains everything you need to tackle your pawed pal's microbiome in a once-daily convenient capsule that can be taken whole or sprinkled onto food.
Free Shipping
Made in the USA from domestically and internationally sourced ingredients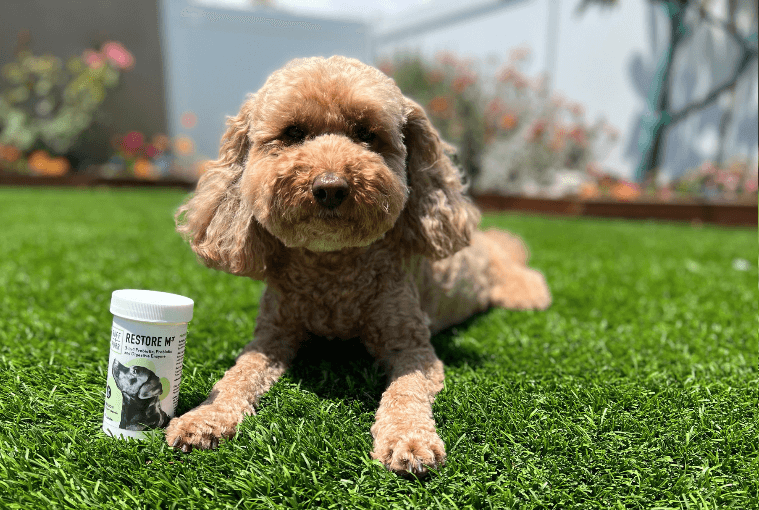 If you or your pawed-pal are not satisfied with your bottle, we'll offer a refund up to 120 days after purchase.
What is Restore M3®?
Maintains Gut Health
We formulate Restore M3® with 6 strains of beneficial probiotic bacteria, 3 powerful prebiotics and essential digestive enzymes activated by ATP to deliver a 3-in-1 product made to provide robust and holistic gut health for your pawed pal.
Thicker & Shinier Coat
Help properly break down and absorb nutrients from foods with digestive enzymes to provide your pet with maximum vitamins, minerals and amino acids for a gorgeous and healthy coat.
Healthier Poops
Create a healthier balance of beneficial bacteria in the gut with these powerful probiotics and helpful prebiotics to support healthier poops and easier clean up.
Less Scratching, Licking, and Shaking
Pet Parents agree their pets are happier and healthier when taking Restore M3® and write exceptional reviews of the benefits they see in their pets.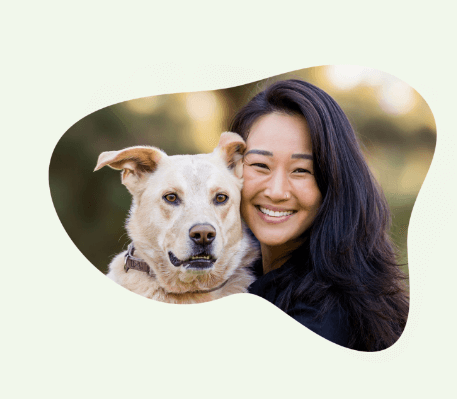 I'm so impressed with the quality of the product ingredients and the efficacy of Restore M3®. I give this to my pups with each meal, and my dogs experience almost no Gl issues.
- Elizabeth (Dr. Schuda)
What Pet Owners Are Saying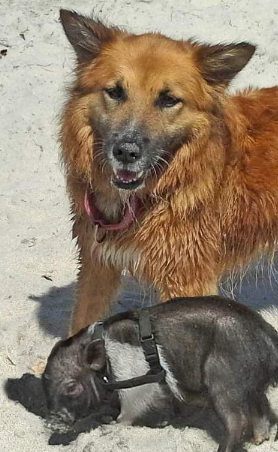 Kona
"The effect was instant. I gave Kona the contents of a Restore M3® capsule sprinkled over her dinner. That was about 6-7 weeks ago. She hasn't had any cases of diarrhea since. Nothing but nicely formed, normal stool. It's made a huge difference in Kona's quality of life. She has been going to rehab (acupuncture, laser therapy, massage, VOM, exercises, and underwater treadmill) for 2 years. Diarrhea and the underwater treadmill aren't compatible, so Kona missed a few weeks of treadmill time. Since starting Restore M3® , she hasn't missed a single treatment!"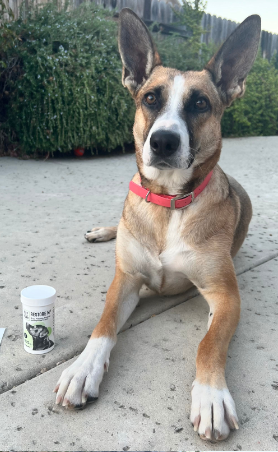 Skye
"Skye was under fed when we adopted her, and she struggled with
anxiety as well. When we would leave for the day. She used to bark
and try to tear up her crate. When we would leave for the day, she
used to bark and try to tear up her crate.Then we added x2 Ruff and
Purr supplements to her diet and within about 2 weeks she calmed
down. Now she sleeps in the crate without anxiety!"
Benefits of Membership
Continued use will ensure continued improvements as the months pass. Your pet will be so grateful that you are committing to their long term health. Support your pet's gut health and immune health everyday by maintaining their balance of good bacteria and maximizing the nutrient potential of their food with Restore M3®.
Continued microbiome support helps your pup derive the most nutrition from their foods. Digestive enzymes break down foods so that nutrients are more readily available. Shifts in their gut microbiome by improving the balance of more good bacteria than bad bacteria will allow for these nutrients to be properly absorbed and utilized by the body to support overall gut health.
Continued microbiome support is linked to several health benefits including improved immunity, healthy skin and a calmer disposition. Start to see if you notice any of these improvements in your pet and know that by supporting their overall gut health you are helping them live their best life.
Restore M3®'s industry leading blend
Product Facts & Use:
For maintenance of a healthy microbiome:
Drop one capsule into food and mix. If your pet is picky, gently open the capsule, unscrew and pour over the food.
Under 20lbs
1/2 capsule per day

51lbs - 85lbs
2 capsule per day
20lbs - 50lbs
1 capsule per day

Over 85lbs
3 capsule per day
Ruff & Purr® Probiotic
Blend 404 mg
– NutraFlora® FOS
(fructooligosaccharides)
– Bio-MOS®
(mannanoligosaccharides)
– PreforPro®
Ruff & Purr® Probiotic
Blend 4 Billion CFU
– Bacillus coagulans
– Bifidobacterium longum
– Bacillus subtilis DE111®
– Lactobacillus plantarum
– Bifidobacterium animalis lactis
– Lactobacillus rhamnosus GG
Ruff & Purr® Digestive
Enzyme Blend 10mg
– Fungal Amylase
– Lipase
– Protease
– Acid Protease
Adenisine Triphosphate
100 Million LCU
Adenosine Triphosphase or ATP is the energy molecule that powers the digestive process as well as every cell in your pet's body.
Other Ingredients
Capsule (hypromellose, pectin
and water), Rice Dextrin, Medium
Chain Triglycerides (MCT),
Magnesium Stearate)
Storage Directions:
Store in a cool, dry place away from heat or direct sunlight. Do not freeze.

Caution:
This product is intended for supplemental feeding only. Safe use in pregnant animals or animals intended for breeding has not been proven. If your pet's condition worsens or does not improve, stop product administration and consult your veterinarian.
Questions and Answers
Probiotics support the gut lining by building a stronger barrier from invaders (like pathogens) and providing a healthier access point for nutrient absorption from our foods. This is why probiotics are often recommended for issues with leaky gut in humans and in animals.
Certain probiotics can actually produce digestive enzymes helping the body be more efficient at breaking down foods naturally. This is one of the many reasons probiotics are good for digestive health.
Probiotics can also increase the number of Short Chain Fatty Acids (also known as SCFAs) which have numerous health effects including controlling populations of pathogenic or harmful bacteria in the gut as well as supporting the immune system and reducing inflammation.
Probiotics can be found in certain foods like yogurts and fermented vegetables and are often referred to as "good bacteria".
Digestive Enzymes break down the foods that pets and their humans eat into more easily absorbable particles allowing the body more access to the vitamins, minerals, amino acids and other nutrients found in foods. When foods are not broken down into absorbable particles, the result is often symptoms of indigestion such as gas and bloating and smelly poop.
Digestive Enzymes can be found in nature in all raw foods. You may have heard of enzymes like proteases from pineapple and papaya plants. Digestive enzymes are produced from fermentation similarly to how probiotics and many vitamins are created for supplements and the food industry.
Yes! Pet parents report that Restore M3®is also helpful for their cats too! We recommend opening the capsule and sprinkling it onto your cat's food with a tiny bit of water. The powder will easily dissolve so you do not have to try to convince your cat to take a capsule whole. We formulated Restore M3®without any taste or flavor so that even the pickiest animals can benefit from restoring their gut microbiome. While there are fewer studies on cats, we have read studies that show cats can benefit from prebiotics too. The digestive enzymes and probiotics may be helpful to better digest the proteins in cat foods as well, as undigested proteins can lead to kidney problems which often are problematic for our feline friends.
Ruff & Purr®'s flagship product, Restore M3®, contains three different products in a single capsule dose. We combine probiotics with both prebiotic and digestive enzymes to make a complete microbiome supplement to tackle all sides of gut health. By feeding Restore M3® to your pawed pal, you eliminate the need to purchase a separate prebiotic, probiotic and digestive enzyme product, while also getting the benefits of all three in a single dose. This can save you an average of $20-$40 per month on additional supplements.
Many products on the market are in a powder scoop with fillers or only using targeting one angle to digestive health. Restore M3® stands out from the rest and the feedback from our customers has been overwhelmingly positive. It's why we do what we do and we are excited for what the future holds.
Having a healthy gut helps support us and our pets against short and long term illness. This is done by both having a greater amount of "good" or "healthy" bacteria in our digestive system as well as having a diverse population of microbes. One of the many benefits is gut motility or the movement of food and nutrients into our bodies. This means we can absorb more nutrients helping our bodies repair more quickly. When you or your pet eat more nutrient dense foods and absorb more nutrients from your food, the beneficial effect is less stress on your bodies and a slowing down of aging. Antioxidants are known for keeping us healthy and well, the same is true for our pets. Undigested foods can lead to gut imbalances, food allergies and leaky gut which are bad, but also things like toxin accumulation in the colon or additional stress on the kidneys which are much worse and can all lead to a shorter life.
Yes, our product is supported by veterinarians. You can learn more about our Ruff & Purr®Veterinary specialist, Dr. Elizabeth Schuda here.