In every product we formulate, we
are promoting a longer life for your pet
We make our products for pets like we're making products for ourselves.
We formulate with human grade ingredients.
We manufacture with a cGMP probiotic only facility in the USA.
We use clinically studied ingredients.

We formulate with microbiome experts.
Meet Our Vet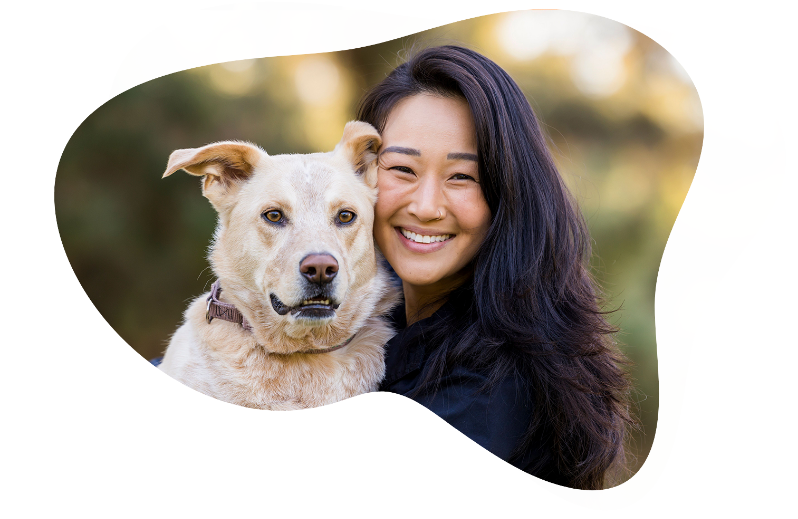 Meet our Vet, Dr. Schuda, Ruff & Purr's
Doctor of Veterinary Medicine
Learn more about Dr. Schuda and why she loves
Restore M3® for her pets and her pawed patients here.
We care about your pet!
We are confident that your pawed pal will benefit from our formulas, here's why
When you mix probiotics with ingredients that are high in moisture (like licorice) or have antimicrobial properties (like ginger), these ingredients don't give your probiotics a fighting chance, as these herbal compounds can kill off the probiotics, as they will not discriminate between good or bad bacteria. You can read more in this study from 2016 [1]
Just like choosing ingredients that are low in moisture is important for keeping probiotics alive … if your probiotic supplement is a scoop in a jar that you have to continuously open and close to give to your pet, then you are exposing it to moisture. Having a probiotic in a capsule (or a stick pack) provides extra protection to keep your probiotic dry. Having a longer shelf life is determined by formulating with probiotic overages, choosing ingredients that are compatible with each other and also considering packaging. We looked at all the packaging options available and chose the best bottle for our capsules too. Our CSP bottle continues to stay dry every time you open and close your bottle due to its inner lining that traps moisture that gets into the bottle, drying it with its desiccant lining so that your capsules stay dry for the life of the product.
Certain prebiotic fibers can actually make your pup's gas worse and some probiotics can contain toxins. We chose prebiotics fibers and a non-fiber prebiotic called PreforPro® [2] to help restore gut health, not irritate it. We chose probiotics that are all GRAS [3] (Generally Recognized As Safe) and stayed away from probiotics that can contain toxic properties.
We chose only the best
ingredients that are safe for
pets (and humans too)
Fast-acting Ingredients
Ingredients that are better and faster than others will make a difference for your pet so you can start to see benefits almost right away.

Clinically Studied and Safe Strains
One of our probiotic strains, DE111®, has 10 publications based on clinical studies and science. These clinicals studies help discover helpful benefits as well as safety too.
Amplifying Probiotic Growth with Prebiotics
One of our prebiotics, PreforPro®, was tested to help probiotics grow in hours when other prebiotics can take days or months to help probiotics grow.
Rethinking Pet Health
We are a category disruptor to impact positive change for pets and their people. Helping our pets live longer and healthier lives is our mission to the core.

Three Pet Supplements, One Capsule
Our flagship product, RestoreM3® is a 3-in-1 Product with all the cutting-edge technology to revolutionize the way people perceive pet supplement products.

Maximizing Your Pet's Nutrient Potential
Digestive Enzymes require ATP to fuel digestion. We specially chose to add ATP to our formulation to help boost the digestive support. Faster digestive support is one factor to helping your pet have great poops with easy clean up for you too.